"This is the origin of the game, golf in its purest form, and it's still played that way on a course seemingly untouched by time. Every time I play here, it reminds me that this is still a game." -Arnold Palmer
This iconic view of the ancient trio is the most recognized composition in the golf world. The Swilcan Bridge, noted in the foreground of the painting, the R&A building featured to the left background and the Hamilton Grand to the right.  And while it may be the most recognizable landscape in golf, I never tire of seeing it.  For this painting, I decided to dare the composition and add a dark approaching storm.  Symbolism in art is subject to the viewer, and so while the storm may signify the shutdown of courses around the world for COVID protection or the internal mental struggle golf may provide, my viewpoint is simply even with a dark approaching storm, if you have the chance to play the Old Course (or any of St Andrews courses), you play it.
In September, 2020, the painting was started with a reference photo taken by Reimar Gaertner (permission to use the photo granted) with a sketch in charcoal and pastel.
An imprimatura wash was then applied for tonality.
Then, layer by layer, starting with the sky and followed by the distant background, the painting was built, and then finished with details added to the bridge, fairway and green.
While many of us will just have to keep the Old Course at St Andrews Links on our bucket list until traveling opens back up, one benefit of having a painting in your home is that you can visit it anytime you want.
To purchase prints, visit here.
Don't forget to sign up for our newsletter to see the next creation here.
Thanks for following along!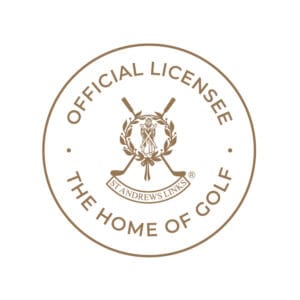 This product is officially licensed by St. Andrews links.  St. Andrews Links, St. Andrews, Home of Golf, Old Course, Jubilee Course, Castle Course and New Course are all registered trade marks of St. Andrews Links Trust.
St Andrews Links Copyright © 2023 St Andrews Links. All Rights Reserved.
All purchases make a contribution to the
preservation and maintenance of the world famous courses at St Andrews Links, including the Old Course.